The Center for Transformational Studies
Our vision at the Center for Transformational Studies,
embodies a calling to bring honor, trust and sacredness back into our lives. As we form this right relationship with ourselves, the earth, and all our relations, we will come to understand that all life is sacred and that everything is interconnected.
Our Location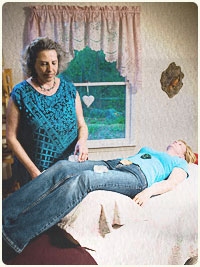 Founded in 2002, the Center is situated in a peaceful, country setting in rural Orange County, North Carolina, between the towns of Chapel Hill and Hillsborough. It is easily accessible to both Interstates 40 & 85, and a half hour drive from the Raleigh/Durham airport and the Amtrak train station.
Although accommodations are not provided, there is a Holiday Inn Express and several B&B's only six miles away in Hillsborough.
Directions are provided upon seminar registration or spiritual healing appointment. However, you may reach the Center directly at
(919) 942-7754 or at PO Box 3181, Chapel Hill, NC 27515.